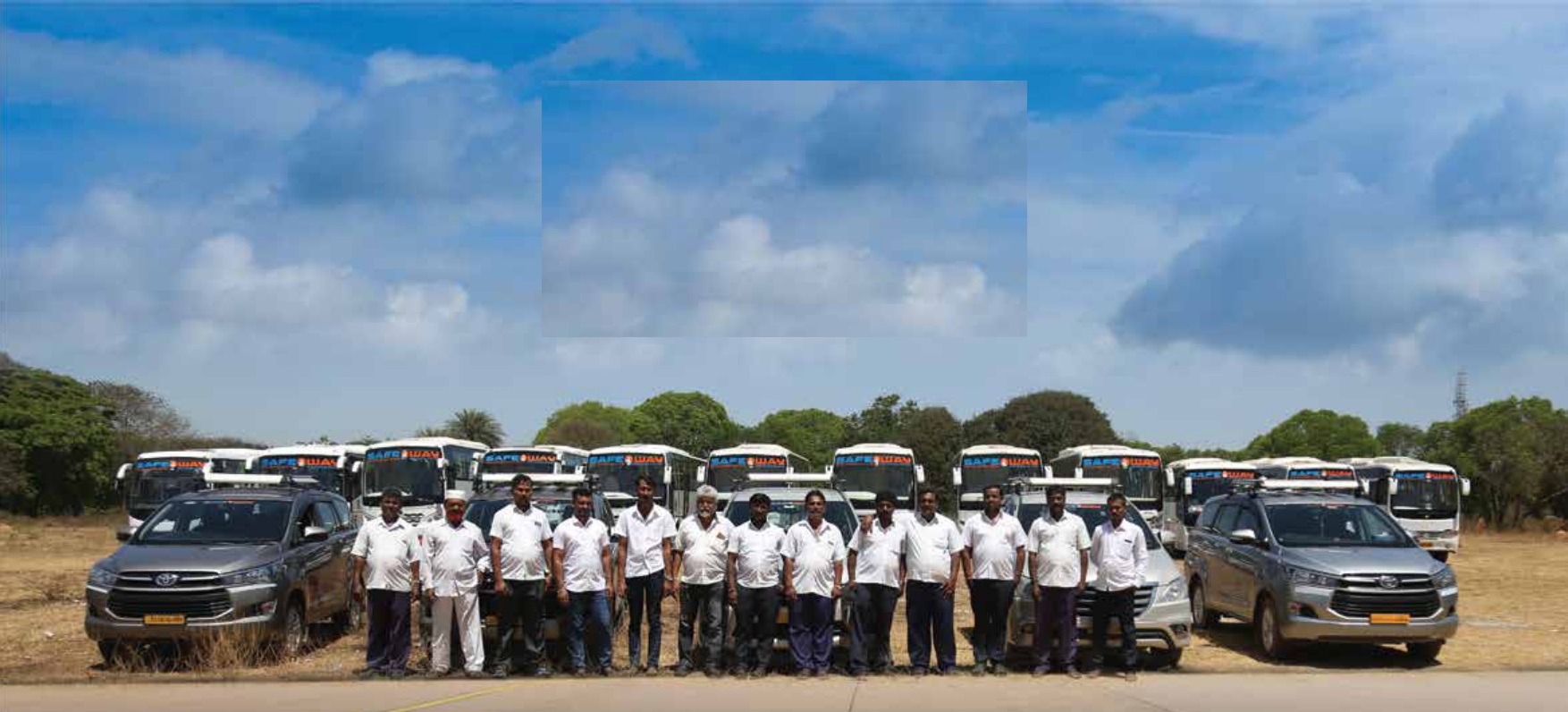 The city of Bangalore is renowned as the "Green City" around the world hence it is one of the places that people are curious to visit and explore.
"SAFEWAY" makes a way to satisfy your curiousity by providing extremely reliable travel services like Buses, AC buses, Volvo Buses, Innova Crysta cars, Toyota cars etc. on rent for your journey in Bangalore.
Our safe and perfectly conditioned vehicles help you in intercity travel in a very safe way because of our wellversed and experienced drivers.
You can book our services if you want to travel from anyone place to another, to and fro from the airport, moving around the city for various reasons including sightseeing etc.
Reasons for you to choose us:
Pick up and drop service- Get picked up at your doorstep, wherever you are, without paying an extra fee. Whether you stay in Koramangala, Manyata Tech Park, Sarjapur or any other destination, our chauffeur will arrive at your address, assist you with the luggage and be your travel companion and expert guide for your trip. No hassles, no stress.
Take a break: Bangalores enchanting beauty will make you memories for life. You enjoy your drive while we do all the extra work for you. You travel to take a break with Safeway's services indeed.
No liabilities: Unlike self-drive car rentals, we will never hold you liable for any damages caused to the car during your trip.
Roadtrip expertise: Our drivers experts in driving as well as local guides with a lot of information related to Bangalore stored with them which they are always happy to share. They are fluent in the local languages and can help you explore some offbeat places you would have never heard of.
Safe and Sanitized cabs - your safety during the trip is our responsibility. We take extra care to clean and sanitize our cabs before and after every ride. Our cab drivers are trained on the best vehicular and personal hygiene guidelines.
Say no to fixed security deposits - Travel without the tension of losing money & thinking about not receiving your deposit money at the end of the trip. We at Safeway want you to be at peace while on a break. So we don't take any deposits from our customers.
For a safe, trustworthy and happy journey travel the "SAFEWAY"
Call Us
Mobile: +919880424375
Booking: +919900000031
Telephone: +918023341222